We are a Multi Certification Recreational Diving Center that gives international courses for: ACUC (American Canadian Underwater Certification) SSI (Scuba Schools International) and PADI ( Professional Association of Diver Instructor). Three of the most well known recreational diving associations based on continuous education programs for all diving levels.
The choices for learning go from "snorkeling" (free diving), "Open Water Diver", "Advanced", and "Specialties" to professional certifications like "Divemaster", "Instructor Assistant", "Entry Level Instructor" and "Open Water Instructor". We are willing to create divers who are comfortable and prepared to dive in the real world no matter the training level chosen.
The SSI, PADI o ACUC teaching systems include manuals, self study guides, videos, teaching profiles and other support materials. The teaching method is supported by multimedia, lectures and practice. This learning system is natural and has proved a highly effective methodology.
¿How to start diving ?
There are two complementary initiation levels that can be achieved separately or together which are designed for people who want to enjoy the greatness of the sea.
The first one si called SCUBA DIVER and it takes at least 2 days in which you will develop two theoretical modules and at least 4 open water practices. Once you have achieved your certification you are able to dive down to 36 feet and you have to be supervised by at least one Divemaster. You should not forget that this is the only certification that expires after one year. During this year the diver can take the remaining modules in order to obtain the next certification. .
The price for these modules is $ 300 plus certification fee.
The second certification is the OPEN WATER DIVER and it takes at least 4 days and has 5 theoretical modules and 8 to 10 sea dives, along with as many pool practices as needed. The first modules are the same as for the SCUBA DIVER, that is why if a Scuba Diver decides to become an Open Water Diver only needs to take the remaining modules. This certification does not expire and enables you to dive down to 54 feet with a partner who has to be at least Open Water Diver.
The price for this course is $ 500 plus U$ 20 of certification fee.
The courses taught by Cota Cero include
twice the sea dives required by the certification associations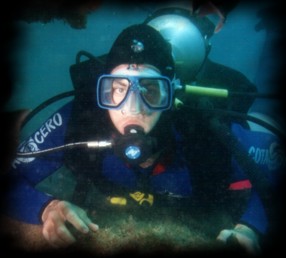 all the diving gear, and boat transportation to the diving sites.



The Scuba Diver course is part of the Open Water Diver course. It is the first step into diving for people with time restrictions and for those who are interested in group diving supervised and guided by a divemaster, assistant instructor or certified instructor.
The Scuba Diver certification requires to successfully complete only the first theoretical modules, the first Confined Water dives and Open Water dives. Once you have finished the course successfully you get the Scuba Diver certification that allows you to dive under professional supervision.
The age limit for the Scuba Diver certifications is 15. Participants under 15 and older than 10 can

certify as "Junior Scuba Diver". Junior Scuba Divers can upgrade to Scuba Diver when they get to the age of 15 without any additional requirement.
Scuba Divers can continue their training any time in order to certificate as Open Water Diver by completing the required Theoretical Modules, Confined Water Dives and Open Water Dives .
You do not need any previous certification to take this course.

The Open Water Diver Course teaches new divers the basic knowledge and necessary techniques for diving with a certified partner without further supervision.
You do not need any previous certification to take this course.
The age limit for the Open Water Diver certifications is 15. Participants under 15 and older than 10 can certify as "Junior Open Water Diver". Junior Open Water Divers can upgrade to Open Water Diver when they get to the age of 15 without any additional requirement.
The course structure has Theoretical Modules, Confined Water Dives and Open Water Dives
The Confined Water training is oriented to provide divers with the basic techniques that any diver needs ( in case of a problem) in a non stressed environment. It also reinforces the Theoretical knowledge by applying what is learned on videos and manuals.
The knowledge development section provides the principles, procedures and general information that all Divers need. There are five self study sections covered by the Open Water Diver Manual and the Open Water Diver Video or CD-ROM. The Divers have to take a Final Exam
The integration of Theoretical principles and Techniques learned during Confined Water Dives is completed with Sea Dives

when new divers have to show their skills in open waters.

The specialties program is another step in you career as a diver. There is a menu of courses from witch you can choose depending on your interest. This courses can be taken separately or grouped in order to achieve the Advanced Diver certification. This certification gives you access to submarine places that require special skills.
Why the specialty training?
The first level course teaches you basic skills, equipment knowledge and a minimum experience in open waters, what is required to be considered a safe diver.
The specialties training seeks two primary goals: To get you ready for new diving situations, and to give you higher level skills in the water. It is an excellent introduction to different types of dives, like deep dives, diving from boats and many others. These courses are designed to increase the joy and safety at any new situation.
Each specialty has its own charm and is an open door to new adventures. Not all courses are for any diver, nor for any experience level. Some may not be available where you live but you may enjoy them when you travel. Each specialty will open new frontiers for the diver who wants to explore the adventures of diving in the world seas.

This course is designed to be an introduction to deep diving and to help learning divers to develop the skills and knowledge needed to participate safely in deep diving activities.
Planning, organization, procedures, te

chniques, problems and danger of deep diving.




Review of risk parameters and decompression tables.




Security stops and intervals and emergency decompression procedures.




Special gear, descending rope and floatability control considerations.


Flying after diving and altitude diving.


Hyperbaric camera orientation
A program designed to increase night diving security. You will be taught the precautions and signaling that a diver should follow. The differences in the behavior of sea life between day and night is emphasized. Night diving gear and techniques are presented.
This course is designed as an introduction to wreck diving and to help divers develope techniques and knowledge needed to safe dive a wreck. It includes :
Planning, organization, procedures, techniques, problems and danger of wreck diving.


Preparation and use of diving lamps , air supply special gear, penetration ropes and rolls
Low visibility diving skills and emergency procedures.

A program designed for divers who wish to use nitrox, also known as " Enriched Air" which lets you dive for longer periods of time using specific decompression tables. This course can be taken by any Open Water Diver or equivalent certification.
This course can be taught by any Nitrox Instructor
¿Have you ever dreamed about exploring reefs and seaweed forests that are far from the beach?
If the answer is yes, then boat diving is for you. Boats let divers explore spectacular sites far from the beach with clearer waters and full of sea life.
Many kind of boats are described in this course. Each one has its own attributes that make it ideal for some kina of dive.

This course is designed to be an introduction to dry suit diving and to help divers learn techniques and knowledge needed for diving with a dry suit:
Planning, organization, procedures, techniques, problems and danger of dry suit.
Floatability control procedures.
Ascending and descending techniques
Routine and preventive maintenance and fatigue control of dry suites.
This program covers first aids in case of accident including CPR (CardioPulmonary Resucitation).
Concepts learned in this course can be appliyed in diving related accidents or otherwise. It is required for many other courses like Dive Master and Emergency Oxygenation, etc. This course can be taken by any person including non divers.
.
The main goal of this course is to initiate divers into different kinds of dives, as well as enhancing the knowledge acquired during the Open Water Diver Course. Most of the issues covered in this course are reviewed and extended in the specialties courses. Your previous experience along with this course will make you a more conscious and safe diver. The experience the diver has, and the new knowledge acquired in this course will result in a safer and self-conscious diver and therefore a diver who will keep practicing recreational diving.

The Rescue Diver certification is an important step in the knowledge development and experience of a diver other than the recreational level. Rescue Diver is required for all supervision courses (Divemaster, Assistant Instructor, Open Water Scuba Instructor).
In this course the diver should get to comprehend how important this kind of training is for him and the others. Like in other fields of security training the main goal is not having to use the rescue techniques.
The Rescue Diver course is designed to develop knowledge and skills needed to effectively assist, rescue, manage unexpected situations and first aid in case of diving accidents. Also train Divemasters.
The course has these modules:
General Review, Selfrescue, Diver Stress
Diver first aids (material and procedures)


Emergency Management (preparation and accident management)


Gear considerations (Common problems and atalajes) Review and Exam.
Open water training focuses on these topics:
Tired Diver;
Panicked Diver;
Accident Sham Two (Answer, Scape, Management)


Boat and Shore answer (conscious victim)


Missing Diver.
Underwater diver problems
Unconscious Diver


Surfaced Unconscious Diver


Surfacing with an Unconscious Diver


Disbaric Accident First Aid


Accident Sham One (Submarine Search)